Club News 2017/2018
---
New signing at Hythe.....

Hythe can announce the signing of defender Salvyn Kisitu who joins us from Sittingbourne. The 21 year old counts Leatherhead, VCD Athletic and Folkestone Invicta amongst his former clubs.
---
Hythe add two on loan........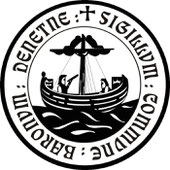 The club are pleased to announce two loan signings. Darren Oldaker and Henry Arnold both from Gillingham. Both made their debut's last Tuesday evening in the home game against Herne Bay.
Manager Sam Denly says "Really pleased to welcome Darren and Henry to the club on a month's loan, Darren is an exceptional talent and having already made appearances for Gillingham first team shows the calibre of player we have, you will do well to find a better mid fielder in the league so it's great to secure his services. Henry is an academy lad at Gillingham and another exciting prospect who will also come into the squad for a loan spell, I would like to welcome them both to the club and look forward to working with them.
---
Squad update................

As the dust settles on all that has happened in the last couple of weeks, we can review some of the changes here at Reachfields.
Prior to manager Clive Cook's departure, Jordan Johnson-Palmer had his contract cancelled by mutual consent and he has since joined Ashford United. As is usual in times of change there were four players who indicated that they would like to leave the club. Ben Wilson moved on to Sevenoaks Town and Dave Cook decided that his immediate future was away from Hythe. Also leaving were Dean Grant and Will Thomas who also signed for Ashford United. Will had originally indicated he was joining a Bostik League North club to link in with Colchester United.
Also prior to the managerial change we had received a seven-day approach from Folkestone Invicta from Jerald Aboagye who decided to move up a division and has moved up the road.
Also departing are coach Mike Ward and goal keeping coach Mark Lane with the latter joining up again with ex-Hythe manager Scott Porter at Whitstable Town.
There will be players coming in over the next couple of weeks as Sam Denly settles in but we have signed two promising youngsters, Elliott Capel and Josh Stirman from Maidstone Academy.  Also joining is former Herne Bay and Canterbury City wing-back Michael Turner who will join the squad on Saturday at Carshalton.
We wish all those who have left the club every success in the future and thank them for everything they have done for the club.  
---
Two new Cannons......
Prior to our game at home to East Grinstead Town, we made two signings. Joining the club from Tonbridge Angels is midfielder Chris Kinnear (pictured left). Chris, who is son of the Dover manager, also has National League experience with Dover Athletic.
Also joining the team is former Arsenal Academy player, Zak Ansah (pictured right). He left Arsenal to join Charlton Athletic but did not get a first team outing. He did however go out on loan to Plymouth Argyle where he played eight times and then went to Newport County where he had 13 games. He played for Woking last season in the National League.
We welcome both Chris and Zak to the club and wish them a long and successful spell with us. 
---
Hythe Town Football Club Statement.....

A series of disappointing results have led to the Board of Directors making a number of managerial changes which will take immediate effect.
Chairman Paul Markland said "Whilst it is true that we are currently holding a respectable position in the league table we had hoped for so much more than this and indeed our playing budget was set to deliver that greater success. We feel that the time is now right for a change in direction and a fresh look at things and we believe that will be best done under a new manager and coaching set-up.
At the same time, we are loath to lose the services of Clive Cook who has made so many friends at Reachfields and who has a tremendous passion for the club. We are therefore delighted to announce that Clive will be moving "upstairs" to the Boardroom and into a role that will be fully confirmed in due course.
We have appointed Sam Denly to be our new manager and he will be assisted by Gavin Theze and experienced coach Steve Nolan. Sam is 33 years old and was at Herne Bay until he resigned last season and Gavin was his assistant. Steve will be fondly remembered by Cannons fans as he was at Hythe with Tim Dixon before he moved on to Maidstone United. Sam has proved himself as a capable and strong young manager and we are very pleased that he will be joining us. He will together with Gavin and Steve provide fresh impetus to our ambitions."
Denly, who works in Canterbury as a mortgage advisor commented "I am excited to start working again in management with Hythe Town. Whilst I have enjoyed a short break from football, the opportunity to return and work at a club like Hythe is one that I am extremely excited about. Hythe have a talented squad with great supporters and I look forward to working with everyone associated with the club."
The club expects to be making a further statement in due course once all arrangements have been completely finalised but is expecting that all current players will be remaining at the club although midfielder Jordan Johnson-Palmer had departed at the weekend.
---
Dave Cook receives appearance award.......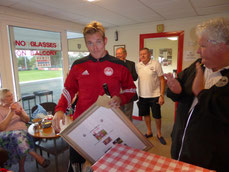 Dave Cook (pictured) receives an award for becoming the club's record senior appearance holder as he passed the previous record of 354 games held by John Walker at the midweek game last week at VCD Athletic.
Manager Clive Cook said in the club programme.
"David passed the appearance record for the Club held by John Walker last Tuesday evening against VCD Athletic. As a Dad I am so proud of him to have achieved this. It's a huge effort, but that's where the Dad thing stops. In football, at this club to David, I am the Gaffer or Clive. It works for the both of us-mutual respect really. As a manager to David, I feel it is an amazing feat to have achieved this goal over the last 10 years when he has been at this football club (apart from a couple of short breaks at two other clubs).
With loyalty being low on the list these days with players in non-league football, this makes this achievement even more so fantastic to have passed this record. He is definitely old school, as they say. He will play through an injury, moan the next day how his body is in bits and then dusts himself down and declares himself fit for the next game.
He is great in the dressing with the younger players (they are all younger than him) and just enjoys being part of this club and squad of players. David has just started getting himself involved with the management side of things. He is very knowledgeable at this level of football and as those years creep up on him, he should look to putting that knowledge into some sort of management role- that's my opinion...watch this space.
But at the moment he just wants to keep playing for as long as he can and as long as his body can take it. He wants to go on as long as he is enjoying himself and being one of the boys.
A great attitude, great footballer but most importantly of all a great person to have around this football club. He is a real level headed man and I am a very proud Manager/Dad.
Thank you David-there are not enough words to explain what you mean to our management team and our squad of players.
Congratulations on your record from all of us…well deserved.  
355 Appearances/130 Goals.
Big it up to COOKIE.
Clive 
---
Pogue goes to Hastings...........
Kenny Pogue has left the club and has signed for Hastings United. He played 50 games for the Cannons scoring 21 goals. We wish Kenny every success in the future and thank him for his contribution to the club. 
---
Hythe sign Dos Santos...........
We are pleased to announce the signing of highly experienced striker Jerson Dos Santos from Corinthian-Casuals. Jerson has already scored five league goals this season. Manager, Clive Cook said " I am excited to bring the boy to this football club and he is a great addition to our squad He is a natural goal scorer and I looking forward to working with him-welcome to the club Jerson."
---
Jay May leaves for Margate- Sid Sollis joins......
Jay May has left the club to join Margate. Jay played 19 games for us scoring six goals. Coming the other way is young striker Sid Sollis who joins on a long term loan from Margate. The Westerham based 18 year old played in the youth set up at Tonbridge Angels where he made six first team appearances scoring two goals.
---
Player update at Reachfields......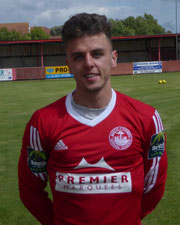 There are a number of changes been made at Reachfields over the last week or so. Firstly leaving the club are goalkeeper Joe Mant who has joined VCD Athletic. Joe was a loyal servant of the club while he was here playing 101 games. Also departing is Matt Newman who has returned to Folkestone Invicta. We wish them both every success at their new clubs.
Joining the club is former Margate left back Tommy Cooney (pictured). He is 22 years old and played most of his career in the north including a spell with Morecambe. He will go into the squad for the game away at Thamesmead Town.   
---
Hythe sign ex-Gillingham defender.....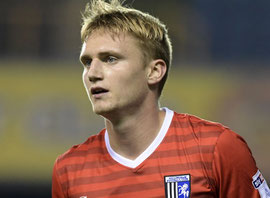 Hythe are delighted to announce the signing of 20 year ex-Gillingham defender, Mitchell Dickenson. Highly rated, Mitchell, made two appearances for the Gills with his senior debut in the EFL Trophy game against Luton Town back in August 2016. He made one league appearance as he came on as a first half substitute at Bury in March 2017. During his time at Gillingham he had loan spells at Whitstable Town, East Grinstead Town and Hastings United.
---
Pre-season friendlies programme .....

The result of pre-season friendlies are:
Sunday 9th July 2017 Away v Folkestone Invicta Lost 1-4 Scorer: Miller
Saturday 15th July 2017 Home v Tilbury Won 1-0 Scorer: Loynes
Tuesday 18th July 2017 Away v Sheppey United Lost 2-3 Scorers: Campbell & Cook
Saturday 22nd July 2017 Away v Peacehaven & Telscombe Won 3-1 Scorers: Grant 3
Tuesday 25th July 2017 Home v Crowborough Athletic Won 2-0 Scorers: Grant 2
Saturday 29th July 2017 Home v Dorking Wanderers  Lost 0-1
Tuesday 1st August 2017 Away v SC Thamesmead Drew 1-1 Scorer: Jay May
Saturday 5th August 2017 Home v Bowers & Pitsea Lost 4-5 Scorers: Kieron Campbell 2, Jordan Johnson- Palmer, & Sam Adams,
---
Hythe sign Johnson-Palmer.........
We are pleased to announce the signing of midfielder Jordan Johnson-Palmer. The former Guildford City, Metropolitan Police, & Molesey player impressed in the pre-season friendly against Peacehaven & Telscombe.
---
The Cannons on tour.................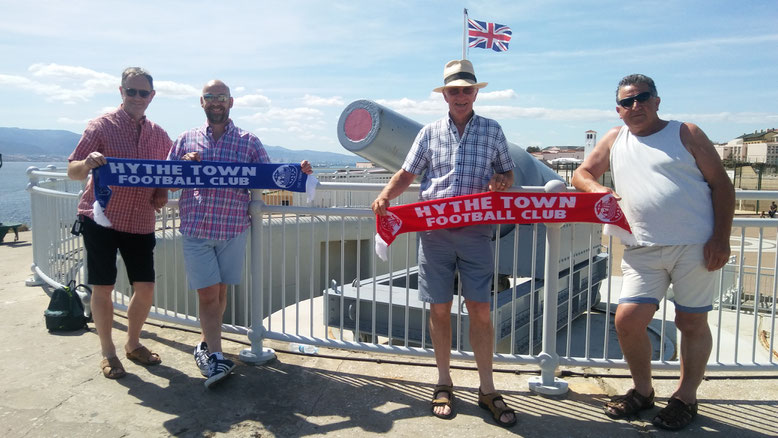 A few notable members of the Board and Supporters on tour in Gibraltar. A challenge to anyone who takes a photograph with a Cannons Scarf in an exotic holiday destination then send them to me and we will put them on the website.
---
Hythe Town announce new captain.................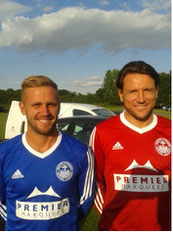 Hythe Town Manager, Clive Cook, is pleased to announce that the Club Captain for the 2017/18 season will be Ryan Johnson, with Sam Adams as the Vice- Captain. Both players are pictured here in the new Home and Away shirts, sponsored by Premier Marquees.
---
Cannons sign Emptage......
The club are pleased to announce the signing of defender Callum Emptage who joins from Hastings United. Callum started his career via the Gillingham youth set up. He spent some time last season on loan at East Grinstead Town. 
---
Clive Cook's update...........
Hythe Town manager Clive Cook has been busy since the end of the season preparing for 2017-2018. He advises:-
Firstly-Craig Cloke...Clokey has left the club to play his football elsewhere, basically to give himself another challenge in football. He has been a great servant to this football club on and off the pitch and will be missed by myself and the rest of the dressing room.  He is passionate about his football and a very good leader of the team and well respected in all other football clubs we play against. I hope it goes well for him in his next venture. I would like to go on record in thanking Clokey for everything he has done for me and Hythe Town. He will be welcome back anytime he wants to watch a game or have a beer-Thank you Clokey. 
I can also advise that the vast majority of last year's squad have signed up for next season including Ryan Johnson, who had signed a one year contract, and Sam Adams. With some additional signings in the pipeline, I am optimistic for the new season.
Also joining the club are Michael Ward as coach and Donna Walker who will be the new physio. 
Keep an eye on the website for regular updates and news. 
---
Ashley Miller returns to Reachfields.......
Manager Clive Cook is pleased to announce the re-signing of former striker Ashley Miller who has joined from Folkestone Invicta. The former Gillingham forward will provide the team with more options up front. Ashley will be in his third spell with us have been on loan from the Gills in 2013 and then a longer stint in 2014-2015.
We expect further signing very soon so keep an eye on the website. 
---
Ryan Palmer joins the Cannons.......
Clive Cook is delighted to announce the signing of former Leatherhead, Hendon and Glebe winger, Ryan Palmer from Ashford United.
Clive said "Ryan is an exciting addition to the squad who will bring a new dynamic to the club"
---