Welcome to the official website of Hythe Town FC
---
Three Bridges-Highlights & Match DVDs-Courtesy of BKVP Sport....
Hythe Town v Three Bridges - 18th February 2017 - Ryman League Division One (South)
Courtesy of BKVP Sport
---
Hythe away to Greenwich Borough on Tuesday

Hythe Town are away to Greenwich Borough on Tuesday evening (21st February 2017) with a 7:45pm kick-off.
---
Hythe disappoint in the mist.....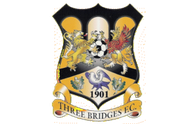 Hythe Town 1 Three Bridges 1
Ryman League Division One (South)
Saturday 18th February 2017
Hythe Town had a disappointing afternoon as they gave a lack lustre performance in a 1-1 draw against struggling Three Bridges at a misty Reachfields on Saturday afternoon.
It was Hythe who started the better as Sam Adams hit a long distance drive which was saved well by Three Bridges keeper Martin Grant high to his left. Grant was to save again from a free kick from Ben Wilson as Hythe pressed. The Cannons were rewarded for their early pressure on 13 minutes as Adams crossed for Dean Grant to head neatly home from close range. Bridges had their first opportunity only a minute after they went behind as Tony Garrod got a foot to the ball which rolled against the post and away. Martin Grant was called into action again as a Ben Wilson free-kick forced the keeper into another save.
Hythe were to continue to dominate the first half as Dean Grant hit a shot which was blocked by Martin Grant with the ball going back to the Hythe striker who hit his second attempt wide. As the mist fell Three Bridges with their second attack of the game drew level after 35 minutes as Tim Cook slammed the ball home from a cross to bring the scores level.  Hythe winger Kieron Campbell was next to threaten as he hit a shot straight at Martin Grant and then at the other end a cross from Tim Cook found Kieran Allen-Djilali who hit the ball over the bar. With two minutes to go until the interval, an Adams cross found Jay May who headed wide. With Three Bridges now looking more dangerous Garrod turned and shot over.  
Three Bridges started the second half on the front foot and during the next 45 minutes looked the more likely to get the winner. On 50 minutes Lee Hall shot high over the Hythe bar and then a corner from Alex Rose forced a dangerous clearance from Dave Cook which went out for a corner. This was followed by a Jensen Grant header from the resultant kick that went over the bar when it looked easier to score. The hosts were having a few opportunities on the break and Wilson hit a free kick onto Martin Grant's arms.  However it was the visitors who were looking more dangerous as Garrod had two chances in quick succession as firstly he broke through but fired and then he headed over the bar. Hythe did have a golden opportunity on 66 minutes as Dean Grant pulled the ball back to Cook who lobbed the ball wide.
Three Bridges were very unlucky on 76 minutes as Allen-Djilali slammed a free-kick against the upright with Jensen Grant blasting the rebound over the bar. As time ran down it was Hythe who began creating more chances as firstly Dean Grant tried to round the Bridges keeper but was blocked and then a deep cross from Wilson was met with a diving header from Adams that went just wide. Frankie Sawyer then came into the action as he pulled a shot wide and finally Dean Grant fed the ball into Sawyer who passed onto Wilson who rifled his shot into the side netting.
Hythe had to settle for a point which must be regarded as two dropped rather than one gained. They will need to up their game for Tuesday's trip to high flying Greenwich Borough as they remain in fifth place.
Team: Joe Mant, Jerald Aboagye, Ben Wilson, Matt Newman, Craig Cloke, Callum Wraight, Dave Cook, Sam Adams, Jay May (Kenny Pogue 59 mins), Dean Grant, Kieron Campbell (Frankie Sawyer 66 mins)
Scorers: Hythe Town-Dean Grant 13 mins Three Bridges-Tim Cook 35 mins.
Attendance: 226
---
Godalming Town-Highlights & Match DVDs-Courtesy of BKVP Sport....
Hythe Town v Godalming Town - 4th February 2017 - Ryman League Division One (South)
Courtesy of BKVP Sport
---
Clubhouse open-this Monday night
The bar will be opening on the "first Monday of each month" at 7pm -- Come down and enjoy a pint !!!!
---
Join the Reachfields backroom team.......
The club are in urgent need of another match-day steward to help with some general duties in and around the ground. There are some benefits but this would mostly suit a supporter who already attends games and who would like to get a little more involved with the club.
We are also looking for an active person who can help with pitch preparation during the week and in the close season.
If you are interested in either of these posts please phone 07908 763101 for more details, or call into the Club Office on any match day. 
---
---
Hythe Town FC on Twitter
Loading Twitter messages...
---