Welcome to the official website of Hythe Town FC
---
Hythe Town FC dedicated offers......
Please check out the Hythe Town FC website by clicking on the Cannons logo (fourth down in the left hand menu) for offers specifically designed for Hythe Town FC supporters. It's a great way for you to make and save money whilst at the same time donating money to the club without any cost to yourselves. Please check for offers on a regular basis as they are continually updated.
Your support would be very much appreciated.
---
Hythe away to Peacehaven on Saturday.........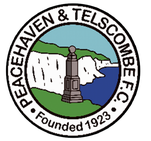 We are away at Peacehaven & Telscombe on Saturday afternoon (22nd July 2017) with a 3 pm kick-off. 
---
Pre-season friendlies programme (new game added).....

The programme of pre-season friendlies now reads:
Sunday 9th July 2017 Away v Folkestone Invicta Lost 1-4 Scorer: Miller
Saturday 15th July 2017 Home v Tilbury Won 1-0 Scorer: Loynes
Tuesday 18th July 2017 Away v Sheppey United Lost 2-3 Scorers Campbell & Cook
Saturday 22nd July 2017 Away v Peacehaven & Telscombe 3pm
Tuesday 25th July 2017 Home v Crowborough Athletic 7:45pm
Saturday 29th July 2017 Home v Dorking Wanderers  3pm
Tuesday 1st August 2017 Away v SC Thamesmead 7:45pm
Saturday 5th August 2017 Home v Bowers & Pitsea 3pm
---
The Cannons on tour.................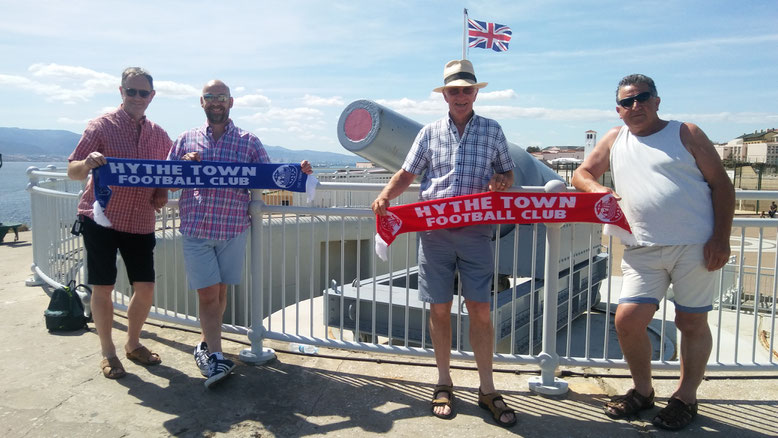 A few notable members of the Board and Supporters on tour in Gibraltar. A challenge to anyone who takes a photograph with a Cannons Scarf in an exotic holiday destination then send them to me and we will put them on the website.
---
Hythe go down to late goal.........

Sheppey United 3 Hythe Town 2
Pre-season Friendly
Tuesday 18th July 2017
Hythe Town went down 3-2 in an exciting pre-season friendly at Sheppey United on Tuesday evening.
The game started slowly with few early chances for either side. The hosts were the first to threaten on eleven minutes as Ryan Johnson denied veteran striker Stuart King blocking his route to goal. Hythe had two opportunities in quick succession as firstly on 21 minutes Sam Adams drove the ball wide from twenty yards and then Jay May had a shot from the centre of the penalty area deflected wide for a corner.  At the other end Timmy Babbington was also to shoot wide of the target.
It took a special goal to break the deadlock on 38 minutes as Kieron Campbell moved in with the ball and patiently waited for the right opportunity to unleash an unstoppable shot from the edge of the area which sailed into the top corner giving Sheppey keeper Jordan Carey no chance. Sheppey countered as they had a long range shot that dipped over the bar. Campbell, who had been a danger all through the half, broke in again but this time Carey saved.
Hythe made a number of changes during the second half but started on the front foot as firstly Campbell shot wide and then Tom Loynes fed the ball back to Adams but he also shot wide. Sheppey brought the scores level on 50 minutes as Remmell Davis broke through firing past Hythe keeper Will Godman. The pressure now seemed to switch with Sheppey looking the more likely. However Hythe did threaten on the break as Adams forced Carey to tip the ball over from a long range shot. The hosts however were not to be denied as John Ralph on 66 minutes headed in from a cross from the by line.
With a quarter of an hour to go confusion in the Hythe defence saw King shoot over the visitors bar and then immediately at the other end a melee in the Sheppey penalty area eventually saw Dave Cook slam in a shot to bring the scores level. As the game appeared to be ending in a draw Sheppey got the winner with a minute of normal time remaining as Davis got his second converting at the far post from a cross.
It was a useful workout for the Cannons as they continue their build up to the new season. Hythe will now travel to Peacehaven & Telscombe on Saturday afternoon for their next pre-season game.
Team: Joe Mant, Callum Emptage, Keane Gillett, Ryan Johnson, Matt Newman, Mitchell Chapman, Dave Cook, Sam Adams, Jay May, Ryan Palmer, Kieron Campbell. Sub used: Tom Loynes, Kenny Pogue, Ashley Miller, Chris Saunders, Ben Wilson, Charlie Webster, Alfie Foster, Will Godman.
Scorers: Sheppey United – Remmell Davis 50 & 89 mins, John Ralph 66 mins. Hythe Town – Kieron Campbell 38 mins, Dave Cook 75 mins.
Attendance: Approx 180
---
Hythe Town announce new captain.................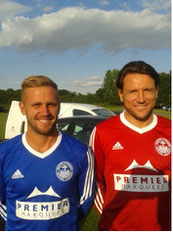 Hythe Town Manager, Clive Cook, is pleased to announce that the Club Captain for the 2017/18 season will be Ryan Johnson, with Sam Adams as the Vice- Captain. Both players are pictured here in the new Home and Away shirts, sponsored by Premier Marquees.
---
Reachfields admission prices frozen for third year running......
Once again our loyal supporters are not being subjected to any price rises for this coming season. Click here for all admission prices but please make a special note of the following points.
BALCONY TICKETS.   These proved very popular last season and both Balcony 1 and Balcony 3 may well sell out before kick-off time (August 12th). All who bought balcony tickets last season will be given an opportunity to buy them again before they go on general sale (see below). Please remember that you do not have to pay for any separate ground season ticket until you are ready to do so as these are unlimited and you will not lose any discount if you wait.
ALSO-Please note that we regret that supporters will not be able to pay by instalments this season.
The remaining Balcony tickets will go on sale at another special date on THURSDAY JULY 6TH FROM 4pm to 8pm in the bar when again we will have Ground tickets available and any balcony tickets already purchased can be upgraded and your discount applied. 
After this date tickets may be purchased at the ground during any pre-season game. 
PLEASE HELP BOTH THE CLUB AND YOUR FELLOW SUPPORTERS BY ADVISING THOSE WHO DO NOT HAVE ACCESS TO THE WEBSITE OF THESE ARRANGEMENTS. 
---
---
---
Hythe Town FC on Twitter
Loading Twitter messages...
---