Welcome to the official website of Hythe Town FC
---
Hythe go down to injury time goal.......

Thamesmead Town 2 Hythe Town 1
Bostik League South
Wednesday 16th August 2017
Hythe were sunk by an injury time winner as they lost 2-1 at Thamesmead Town on Wednesday evening.
It was Thamesmead who started the stronger as their first opportunity came after three minutes with Thomas O'Connor blasting over from 25 yards. They were unlucky on twelve minutes when Jake MacIntyre fed the ball into Laurent Mendy whose back flick went just wide. Hythe first effort came on 16 minutes as Adams fed the ball to Kieron Campbell whose rifled shot was tipped onto the bar by Thamesmead keeper Lewis Carey. Ben Wilson was the next to threaten for the Cannons as he sent in a free kick towards the far post but there was no one there to divert the ball towards the net. There were opportunities being created at both ends as Thamesmead's Dane Luchford scuffed a shot that rolled along the ground and into the arms of Hythe keeper Will Godmon.
Ryan Palmer was the next to create a chance as he worked his way in from the left but his final effort was pulled wide. At the other end Godman tipped the ball over the bar from a Mendy header. The hosts were eventually to take the lead on 31 minutes as McIntyre swung in a free-kick from the right and Mendy's header went through a crowd of players from short range and before Hythe could clear the ball had crossed the line. There was one chance for the visitors before half time as Palmer sent in a deep cross to Campbell who forced Carey to tip the ball over the bar.
Hythe were the better side in the second half and were level on 51 minutes. Adams slotted a pass through the Thamesmead's defence to Kenny Pogue who threaded the ball past Carey and into the back of the net. Hythe continued to press and it was Dave Cook who was to head over from a Palmer free-kick. Sam Adams was denied as his shot was deflected over by Joe Denny. At the other end substitute Alex Teniola had a curling shot turned around the post by Godmon. With ten minutes to go a Wilson corner was headed over by Adams. As the time ticked away both sides had opportunities to break the deadlock as O'Connor had an attempt tipped over by Godmon and then at the other end Pogue hit a snap shot held by Carey. However there was a sting in the tail for the Cannons as Thamesmead got a winner two minutes into injury time as Carey sent in free-kick into the Hythe penalty area. It was met by Scott Kinch who headed down and Paul Vines was on hand to slot home from short range.
It was an improved performance from the previous game but Hythe still came away pointless. They must continue that improvement into their FA Cup game at Corinthian Casuals on Saturday.
Team: Will Godmon, Jerald Aboagye, Ben Wilson, Ryan Johnson, Mitchell Dickenson, Jordan Johnson-Palmer (Mitchell Chapman 64 mins), Dave Cook, Sam Adams, Dean Grant (Kenny Pogue 45 mins), Ryan Palmer (Tommy Cooney 77 mins), Kieron Campbell.
Scorers: Thamesmead Town-Laurent Mendy 31 mins, Paul Vines 90 mins. Hythe Town- Kenny Pogue 51 mins
Attendance 114
---
Hythe drawn away in League Cup.....
Hythe Town have been drawn away to Faversham Town in the First Round of the Velocity Sports Trophy. This is the League Cup and the date is to be advised. 
---
Player update at Reachfields......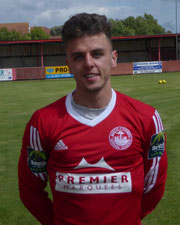 There are a number of changes been made at Reachfields over the last week or so. Firstly leaving the club are goalkeeper Joe Mant who has joined VCD Athletic. Joe was a loyal servant of the club while he was here playing 101 games. Also departing is Matt Newman who has returned to Folkestone Invicta. We wish them both every success at their new clubs.
Joining the club is former Margate left back Tommy Cooney (pictured). He is 22 years old and played most of his career in the north including a spell with Morecambe. He will go into the squad for the game away at Thamesmead Town.   
---
Casuals come away with points............

Hythe Town 1 Walton Casuals 2
Bostik League South
Saturday 12th August 2017
Hythe went down to a hard working Walton Casuals team who came away from Reachfields with a well-deserved victory.
The early exchanges belonged to the visitors as they created their first opportunity after only three minutes as a poor clearance from the Hythe defence was jumped on by Isaac Sarapong but his shot went into the side netting. They continued to press as Josh Kelly had a shot deflected over Hythe keeper Will Godmon but it also went over the bar. Godman was to deny another attempt by Sarapong.
Hythe had to wait until the sixteenth minute before their first opportunity as Jerald Abagoye broke down the right and centred into Dean Grant who turned the ball into the side netting. Casuals got a deserved lead on 18 minutes as Josh Kelly curled a shot from the edge of the area into the top corner of the net. Their lead lasted six minutes before Aboagye pounced on a defensive mistake and crossed to Jay May who made no mistake side footing home from close range.
Casuals had a further attempt on 31 minutes as a Roscoe Dsane cross was headed down by Daryl Coleman but the ball bounced over the bar. Hythe continued to create some chances as Sam Adams sent a free kick from the edge of the area over the bar. Casuals then got the goal that sealed the game as a cross from Josh Kelly was met by Roscoe Dsane who slammed the ball home on 36 minutes. Hythe did have one effort just before the break as Aboagye pushed the ball into Campbell who slammed it into the side netting.
The second half started in the same pattern as Alex Kelly sliced a shot wide and then at the other end Ben Wilson sent in a corner that was headed wide by Mitchell Dickenson but it was the visitors who were creating the more meaningful chances as Sean McCormack forced Will Godmon to tip the over the bar. Alex Kelly crossed into McCormack who this time headed wide.
Hythe did press towards the end as a Wilson corner was headed wide by Ryan Johnson. With ten minutes to go Grant curled a shot wide of the target but things were to get worse for the Cannons as captain Ryan Johnson was sent off for a second yellow card near to the end of normal time. One more chance for the visitors in injury time as substitute Jack Battie had a shot held by Godmon at a second attempt.
It was a disappointing start to the season for Hythe who must now regroup as they prepare for Wednesday's fixture at Thamesmead Town.
Team: Will Godmon, Jerald Aboagye (Charlie Webster 69 mins), Ben Wilson, Ryan Johnson, Mitchell Dickenson, Jordan Johnson-Palmer, Dave Cook, Sam Adams, Jay May (Ryan Palmer 63 mins), Dean Grant, Kieron Campbell.
Scorers: Hythe Town-Jay May 25 mins: Walton Casuals-Josh Kelly 18 mins, Roscoe Dsane 36 mins:
Attendance: 181 
---
Hythe Town FC dedicated offers......
Please check out the Hythe Town FC website by clicking on the Cannons logo (fourth down in the left hand menu) for offers specifically designed for Hythe Town FC supporters. It's a great way for you to make and save money whilst at the same time donating money to the club without any cost to yourselves. Please check for offers on a regular basis as they are continually updated.
Your support would be very much appreciated.
---
---
Hythe Town FC on Twitter
Loading Twitter messages...
---