Welcome to the official website of Hythe Town FC
---
Dave Cook receives appearance award.......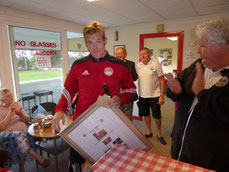 Dave Cook (pictured) receives award for becoming club's record senior appearance holder as he passed the previous record of 354 games held by John Walker at the midweek game last week at VCD Athletic.
Manager Clive Cook said in the club programme.
"David passed the appearance record for the Club held by John Walker last Tuesday evening against VCD Athletic. As a Dad I am so proud of him to have achieved this. It's a huge effort, but that's where the Dad thing stops. In football, at this club to David, I am the Gaffer or Clive. It works for the both of us-mutual respect really. As a manager to David, I feel it is an amazing feat to have achieved this goal over the last 10 years when he has been at this football club (apart from a couple of short breaks at two other clubs).
With loyalty being low on the list these days with players in non-league football, this makes this achievement even more so fantastic to have passed this record. He is definitely old school, as they say. He will play through an injury, moan the next day how his body is in bits and then dusts himself down and declares himself fit for the next game.
He is great in the dressing with the younger players (they are all younger than him) and just enjoys being part of this club and squad of players. David has just started getting himself involved with the management side of things. He is very knowledgeable at this level of football and as those years creep up on him, he should look to putting that knowledge into some sort of management role- that's my opinion...watch this space.
But at the moment he just wants to keep playing for as long as he can and as long as his body can take it. He wants to go on as long as he is enjoying himself and being one of the boys.
A great attitude, great footballer but most importantly of all a great person to have around this football club. He is a real level headed man and I am a very proud Manager/Dad.
Thank you David-there are not enough words to explain what you mean to our management team and our squad of players.
Congratulations on your record from all of us…well deserved.  
355 Appearances/130 Goals.
Big it up to COOKIE.
Clive 
---
Highlights of Hythe v Ashford United-courtesy of BKVP Sport......
Highlights courtesy of BKVP Sport
Hythe Town v Ashford United 
Bostik League South
Saturday 16th September 2017
---
Hythe away to Faversham on Tuesday......

Hythe Town are away to Faversham Town on Tuesday night (19th September 2017) in the Velocity Trophy 1st Round – Kick off is 7:45pm at Salters Lane
---
Early penalty enough for Cannons victory......

Hythe Town 1 Ashford United 0
Bostik League South
Saturday 16th September 2017
Hythe were grateful for a fourth minute penalty to gain all three points in a 1-0 win at home to Ashford United on Saturday afternoon.
It was the Cannons who dominated the first half and created their first opportunity on two minutes as Ryan Palmer sent in a free kick from just outside the penalty area straight into the arms of Ashford keeper, George Kamurasi. However Kamusari was at fault two minutes later as he clipped Hythe debutant Jerson Dos Santos as he broke into the penalty area. The referee had no hesitation in pointing to the spot. Up stepped Ryan Johnson who placed his kick neatly into the corner of the net to give Hythe the lead.
The hosts continued to control the game with Dean Grant working his way down the left and unleashing a shot just over the bar. Ashford had to wait until the twelfth minute for their first meaningful effort as Max Watters broke through lobbing the ball over Hythe keeper Will Godmon but also over the bar. Palmer was in the action again as he cut in and shot straight at Kamurasi. At the other end Tyrell Richardson-Brown turned and shot but did not trouble Godmon who held onto the ball easily.  Mitchell Chapman was to then run in towards the Ashford penalty area and slam the ball over the bar. One more chance for Hythe before the interval as Ben Wilson played the ball into Grant who nodded on to Dave Cook who, playing his record 356th appearance for the Cannons, got under the ball and headed over from close range.
The second half started again with Hythe in the ascendancy as Wilson sent in a deep corner to Mitchell Dickenson who headed wide and then on 52 minutes the same combination saw Wilson cross to Dickenson who buried his header into the net but the goal was ruled out for an infringement that the referee had seen. Ashford had their first attack of the half on 53 minutes as Matthew Day broke through the offside trap but screwed his effort wide. The hosts however were still creating the majority of the chances as Wilson got the ball onto Grant who fed Dos Santos whose attempt went just wide. With Hythe continuing to press Jordan Johnson-Palmer created the next opportunity passing to Palmer whose final shot lacked power and did not threaten. Ashford were creating the odd scare at the other end as Brendon Williams got the ball over to Connor Westney whose effort was well saved by Godmon.
Hythe were continuing to have the lion's share of the play as Dos Santos passed the ball out to Wilson whose shot was saved by Kumurasi who was on hand again two minutes later as Jerald Aboagye pulled the ball back to Grant who forced a good save from the Ashford keeper. Dos Santos was proving a thorn in Ashford's side as he closed in down the by-line getting the ball into Aboagye who fired wide. On 73 minutes Kumurasi tipped over a curling free kick from Dos Santos.
Despite dominating proceedings the home support were becoming concerned that there may be a sucker punch from the visitors as Ben Davisson screwed a shot wide and then ex Hythe favourite Pat Kingwell pulled the ball back and unleashed a shot that shaved the right hand post. This was followed by a Richardson-Brown attempt that curled the ball high over the bar.
Hythe were to hold onto their lead and take all three points. They take a break from league action on Tuesday as they visit Faversham Town in the Velocity Trophy.
Team: Will Godmon, Jerald Aboagye, Ben Wilson, Ryan Johnson, Mitchell Dickenson, Mitchell Chapman, Dave Cook, Jordan Johnson-Palmer, Dean Grant (Sid Sollis 75 mins), Jerson Dos Santos (Kieron Campbell 89 mins), Ryan Palmer (Ashley Miller 68 mins).
Scorer: Hythe Town-Ryan Johnson 4 mins (pen)
Attendance: 351 
---
Hythe Town FC dedicated offers......
Please check out the Hythe Town FC website by clicking on the Cannons logo (fourth down in the left hand menu) for offers specifically designed for Hythe Town FC supporters. It's a great way for you to make and save money whilst at the same time donating money to the club without any cost to yourselves. Please check for offers on a regular basis as they are continually updated.
Your support would be very much appreciated.
---
---
Hythe Town FC on Twitter
Loading Twitter messages...
---