Welcome to the official website of Hythe Town FC
---
Home friendly on Tuesday night............
Hythe Town are at home to Crowborough Athletic on Tuesday evening (25th July 2017) with a 7:45pm kick-off.
Crowborough had a successful year last season ending second in the Southern Counties East and just missing out on promotion so should provide stern opposition.
Come down and enjoy the game.
Admission is £5 for adults, £3 for concessions and £1 for under 18s.
The bar will be open and a programme will be issued.  
---
Hythe sign Johnson-Palmer.........
We are pleased to announce the signing of midfielder Jordan Johnson-Palmer. The former Guildford City, Metropolitan Police, & Molesey player impressed in the pre-season friendly against Peacehaven & Telscombe.
---
Hythe Town FC dedicated offers......
Please check out the Hythe Town FC website by clicking on the Cannons logo (fourth down in the left hand menu) for offers specifically designed for Hythe Town FC supporters. It's a great way for you to make and save money whilst at the same time donating money to the club without any cost to yourselves. Please check for offers on a regular basis as they are continually updated.
Your support would be very much appreciated.
---
Dean Grant strikes with a hat-trick.........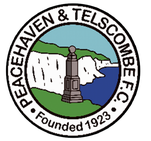 Peacehaven & Telscombe 1 Hythe Town 3
Pre-season Friendly
Saturday 22nd July 2017
The Cannons eventually cruised to a 3-1 win at a damp Peacehaven & Telscombe on Saturday afternoon.
The game started with the hosts on the attack after one minute when they broke through but the ball was deflected wide for a corner. After a twenty minute period of deadlock and limited efforts, it was Hythe who had the next opportunity as Ben Wilson put a ball through to new signing Jordan Johnson-Palmer who put his shot over the bar. Hythe continued to attack as Ryan Palmer sent a looping cross towards the far post but the ball was cleared away. On 32 minutes Peacehaven had a golden opportunity as their striker broke free and forced a save from Hythe keeper, Will Godman.
Wilson was next to threaten as a free kick from the right was deflected wide for a corner. A minute before the interval Johnson-Palmer fed the ball through to Palmer who miss hit his shot wide of the target.
Hythe were in for a shock within three minutes of the restart as the hosts took the lead. The defence allowed the ball to get through to Marcus Richmond who fired past substitute keeper Joe Mant. This seemed to spark the visitors into action and they were level on 57 minutes as a dangerous Keiron Campbell cross found Dean Grant on the near post and the striker nonchalantly flicked the ball home. It was now Hythe who were dominating the game with a Wilson free-kick finding Jay May on the far-post but his attempt went just wide of the target.
Hythe went ahead on 76 minutes as Grant got his second as he lobbed the ball over the goalkeeper and then followed up forcing the ball home. Charlie Webster was unlucky as he ran in but his final effort was pushed wide by the goalkeeper. The Cannons sewed the game up with five minutes to go as Campbell ran into the penalty area, passing to Grant who finished to make the score 3-1 and get his hat-trick.
It was a good result for Hythe as they look forward to another pre-season friendly on Tuesday evening against Crowborough Athletic at Reachfields with a 7:45pm kick off.
Team: Will Godman, Callum Emptage, Ben Wilson, Ryan Johnson, Mitchell Chapman, Chris Saunders, Dave Cook, Jordan Johnson-Palmer, Kenny Pogue, Ryan Palmer, Kieron Campbell. Subs used: Dean Grant, Jay May, Matt Newman, Charlie Webster, Keane Gillett.
Scorers: Peacehaven & Telscombe – Marcus Richmond 48 mins. Hythe Town – Dean Grant 57, 76 & 85 mins.
Attendance approx. 75
---
Pre-season friendlies programme .....

The programme of pre-season friendlies now reads:
Sunday 9th July 2017 Away v Folkestone Invicta Lost 1-4 Scorer: Miller
Saturday 15th July 2017 Home v Tilbury Won 1-0 Scorer: Loynes
Tuesday 18th July 2017 Away v Sheppey United Lost 2-3 Scorers: Campbell & Cook
Saturday 22nd July 2017 Away v Peacehaven & Telscombe Won 3-1 Scorers: Grant 3
Tuesday 25th July 2017 Home v Crowborough Athletic 7:45pm
Saturday 29th July 2017 Home v Dorking Wanderers  3pm
Tuesday 1st August 2017 Away v SC Thamesmead 7:45pm
Saturday 5th August 2017 Home v Bowers & Pitsea 3pm
---
The Cannons on tour.................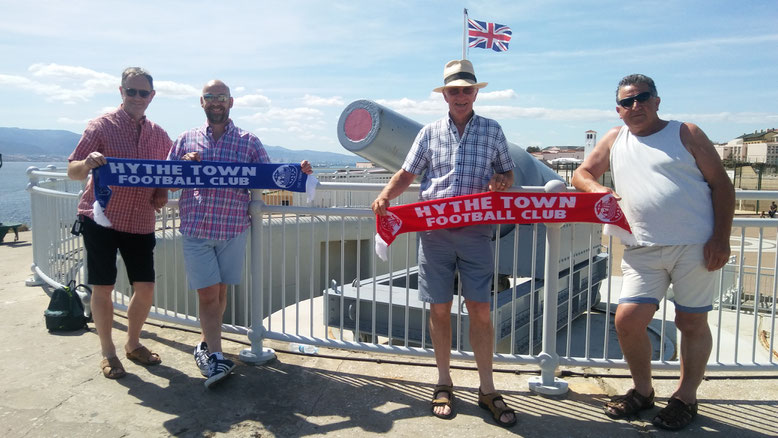 A few notable members of the Board and Supporters on tour in Gibraltar. A challenge to anyone who takes a photograph with a Cannons Scarf in an exotic holiday destination then send them to me and we will put them on the website.
---
---
Hythe Town announce new captain.................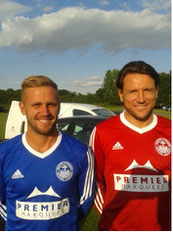 Hythe Town Manager, Clive Cook, is pleased to announce that the Club Captain for the 2017/18 season will be Ryan Johnson, with Sam Adams as the Vice- Captain. Both players are pictured here in the new Home and Away shirts, sponsored by Premier Marquees.
---
Reachfields admission prices frozen for third year running......
Once again our loyal supporters are not being subjected to any price rises for this coming season. Click here for all admission prices but please make a special note of the following points.
BALCONY TICKETS.   These proved very popular last season and both Balcony 1 and Balcony 3 may well sell out before kick-off time (August 12th). All who bought balcony tickets last season will be given an opportunity to buy them again before they go on general sale (see below). Please remember that you do not have to pay for any separate ground season ticket until you are ready to do so as these are unlimited and you will not lose any discount if you wait.
ALSO-Please note that we regret that supporters will not be able to pay by instalments this season.
The season tickets and the remaining Balcony tickets. After this date tickets may be purchased at the ground during any pre-season game. 
PLEASE HELP BOTH THE CLUB AND YOUR FELLOW SUPPORTERS BY ADVISING THOSE WHO DO NOT HAVE ACCESS TO THE WEBSITE OF THESE ARRANGEMENTS. 
---
---
Hythe Town FC on Twitter
Loading Twitter messages...
---