Welcome to the official website of Hythe Town FC

Hythe Town are away on Saturday (23rd September 2017) to South Park in a Bostik League South fixture with a 3pm kick off. 
---
Coach to Kempston.............
We are running a coach to our FA Trophy match at Kempston Rovers on Saturday October 7th. Although this is quite possibly our longest coach trip of the season we are keeping the cost of seats as £10 per person and so if you would like to travel with us please contact the Secretary ASAP on 07908 763101. This is a team coach with on-board toilet and departure time from Reachfields is 9.30 am and we can pick up at Ashford and Maidstone en-route. We will endeavour to be back in Hythe by 9pm.
---
Hythe through in Velocity Trophy......

Faversham Town 2 Hythe Town 5
Velocity Trophy 1st Round
Tuesday 19th September 2017
The Cannons eventually eased through to the next round of the Velocity Trophy as they won 5-2 against a young Faversham Town side at Salters Lane on Tuesday evening.
Hythe dominated proceedings throughout the ninety minutes and were first to threaten on four minutes as Kieron Campbell had a 25 yard effort deflected wide for a corner. Another long range effort from Ashley Miller drifted well wide of the target. Faversham had their first attempt on ten minutes by Luke Griffiths but his shot sailed over the bar. Charlie Webster, who impressed on the right wing, cut in from the right and struck the ball with his left foot but again it went wide of the goal.
Hythe were dominating but struggling to test Faversham keeper Mitchell Day with another shot going wide as Campbell burst in from the right. The Cannons had the perfect opportunity, on 21 minutes to make their dominance count as Sid Sollis was brought down in the Faversham penalty area by Will Hadler. Up stepped Ryan Johnson whose penalty was brilliantly saved by Day. Day was on hand again eight minutes later as Campbell weaved his way into a goal scoring position and forced the Faversham keeper to push the ball around the post.
One more chance for Hythe before half time saw Jordan Johnson-Palmer hit a long range shot from 30 yards that drifted wide. However there was a sucker punch on the stroke of half time as Faversham took the lead against the run of play. A cross from Sam Lawford found Luke Griffiths who stroked the ball home.
The pattern of the game didn't change in the second half as Hythe continued to dominate the game. On 50 minutes the ever dangerous Campbell pulled the ball back hitting the outside of the upright. However two minutes later Hythe finally took one of their chances and were level as Ryan Palmer fed the ball to Johnson whose header was deflected by a defender into the net. Webster was then to cut in and shoot just wide but did better on 68 minutes as he met a Campbell cross and planted the ball into the net to give the Cannons the lead. However that lead only lasted nine minutes when again against the run of play Emmanuel Barnett turned and slotted the ball home to bring the scores level.
The Cannons then seemed to go up through the gears as the pressed hard in the last ten minutes with Palmer feeding the ball through to Dean Grant who headed over and then with eight minutes left on the clock substitute Jerson Dos Santos broke into the area and placed his shot passed Day to give the Cannons the lead. On 86 minutes Hythe finally made the win secure as Jerald Aboagye went on a run through the defence finding himself one on one with Day and slammed the ball home to make in 4-2.  Right on the stroke of full time the visitors put the icing on the cake as Campbell had a shot blocked but it fell to Mitchell Chapman who blasted home from close range.
Hythe now await the draw for the next round to find out their opponents as they move onto a difficult away fixture on Saturday at South Park.
Team: Nick Shaw, Jerald Aboagye (Ben Wilson 87 mins), Ryan Palmer, Ryan Johnson, Michell Dickenson, Mitchell Chapman, Charlie Webster, Jordan Johnson-Palmer, Sid Sollis (Dean Grant 69 mins), Ashley Miller (Jerson Dos Santos 69 mins), Kieron Campbell.
Scorers: Faversham Town-Luke Griffiths 45 mins, Emmanuel Barnett 77 mins. Hythe Town Ryan Johnson 52 mins, Charlie Webster 68 mins, Jerson Dos Santos 82 mins, Jerald Aboagye 86 mins, Mitchell Chapman 90 mins.
Attendance: 97
---
Dave Cook receives appearance award.......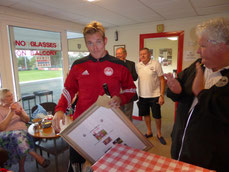 Dave Cook (pictured) receives an award for becoming the club's record senior appearance holder as he passed the previous record of 354 games held by John Walker at the midweek game last week at VCD Athletic.
Manager Clive Cook said in the club programme.
"David passed the appearance record for the Club held by John Walker last Tuesday evening against VCD Athletic. As a Dad I am so proud of him to have achieved this. It's a huge effort, but that's where the Dad thing stops. In football, at this club to David, I am the Gaffer or Clive. It works for the both of us-mutual respect really. As a manager to David, I feel it is an amazing feat to have achieved this goal over the last 10 years when he has been at this football club (apart from a couple of short breaks at two other clubs).
With loyalty being low on the list these days with players in non-league football, this makes this achievement even more so fantastic to have passed this record. He is definitely old school, as they say. He will play through an injury, moan the next day how his body is in bits and then dusts himself down and declares himself fit for the next game.
He is great in the dressing with the younger players (they are all younger than him) and just enjoys being part of this club and squad of players. David has just started getting himself involved with the management side of things. He is very knowledgeable at this level of football and as those years creep up on him, he should look to putting that knowledge into some sort of management role- that's my opinion...watch this space.
But at the moment he just wants to keep playing for as long as he can and as long as his body can take it. He wants to go on as long as he is enjoying himself and being one of the boys.
A great attitude, great footballer but most importantly of all a great person to have around this football club. He is a real level headed man and I am a very proud Manager/Dad.
Thank you David-there are not enough words to explain what you mean to our management team and our squad of players.
Congratulations on your record from all of us…well deserved.  
355 Appearances/130 Goals.
Big it up to COOKIE.
Clive 
---
Highlights of Hythe v Ashford United-courtesy of BKVP Sport......
Highlights courtesy of BKVP Sport
Hythe Town v Ashford United 
Bostik League South
Saturday 16th September 2017
---
Hythe Town FC dedicated offers......
Please check out the Hythe Town FC website by clicking on the Cannons logo (fourth down in the left hand menu) for offers specifically designed for Hythe Town FC supporters. It's a great way for you to make and save money whilst at the same time donating money to the club without any cost to yourselves. Please check for offers on a regular basis as they are continually updated.
Your support would be very much appreciated.
---
---
Hythe Town FC on Twitter
Loading Twitter messages...
---